Make your Move
Move UBC is all about exploring ways to move that work for you. While the amount, intensity, and frequency of physical activity is individual to each person, Move UBC invites all students, faculty, and staff to explore ways to move that feel empowering and motivating to them.
Exercise can help boost our physical, mental, and social wellbeing—plus, it can be fun! Start small and set reasonable goals to help make movement part of your day!
Here are a few ways you can explore moving more throughout Move UBC and beyond!
---
Featured Move UBC Events
There are lots of ways to move at UBC year-round, but here's a few extra-special events we have planned throughout Move UBC month to get you motivated!
Move More at UBC year-round!
You probably spend a large part of your day on campus; luckily, there are plenty of ways to be physically active at UBC for little or no cost. Here are a few ways you can explore moving at UBC year-round!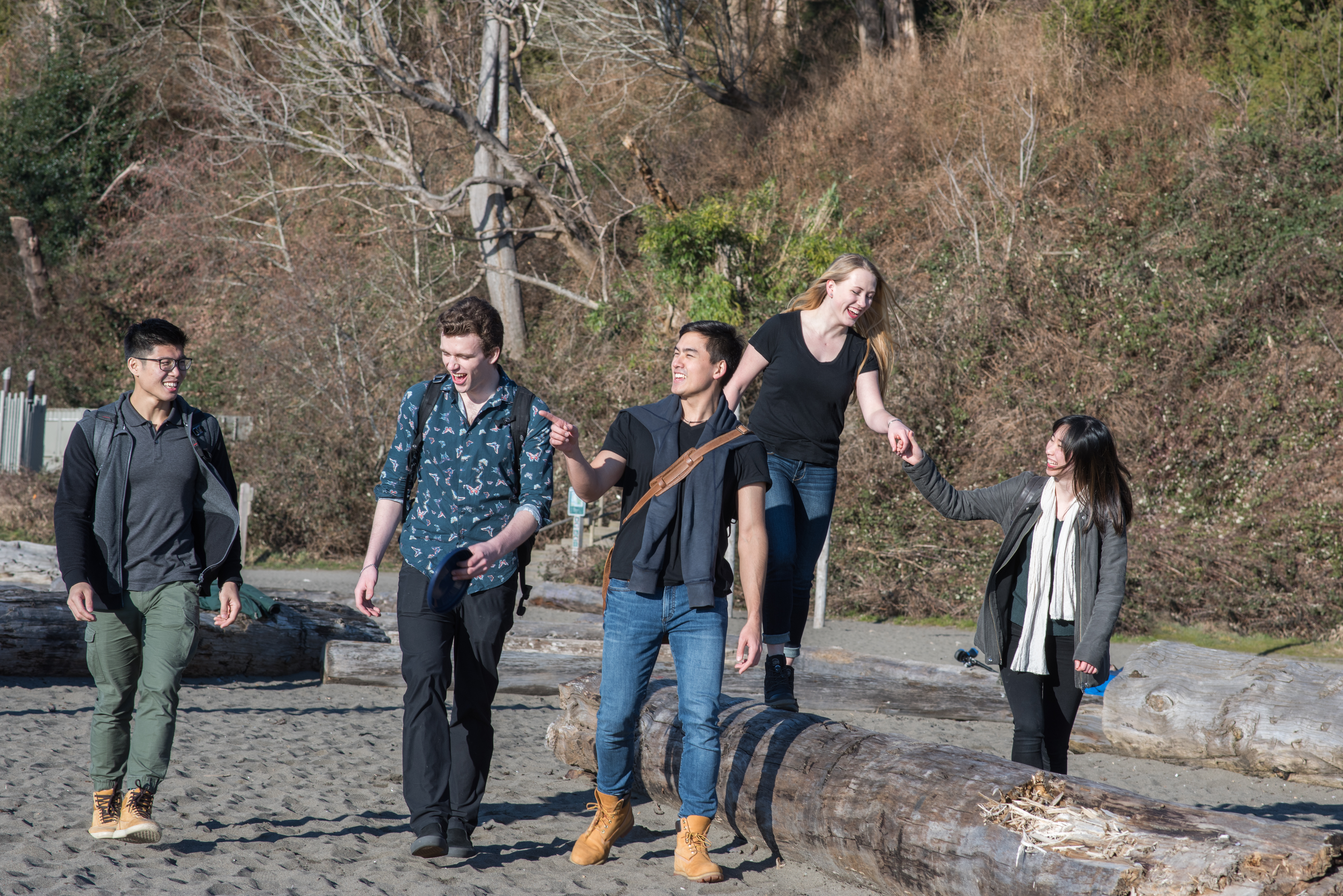 Make it Social
Social connection and physical activity are both key to wellbeing. Combine the two for a powerful (and fun) mood booster!
Take part in the Wellbeing Challenge for a chance to explore campus and maybe even win great prizes.
Get some friends together and sign up for a group fitness activity, such as UBC Recreation (Vancouver) fitness classes or Okanagan campus group fitness.
Have fun trying something new as a group! The UBCO Curling Bonspiel, or Drop-in Gymnastics at Osborne Gym can be great teambuilding activities!
Invite a friend or colleague to join you for a walking break or meeting!
Turn a daily task into an opportunity to get active
The best way to begin reducing your sitting time is to look at how movement can be incorporated into things you're already doing. Think of physical activity less as one dedicated chunk of your day, and more as small, frequent breaks.
If you're able to, take the stairs whenever you can.
Have an "active" commute. Walk or bike to work if you can, get off the bus a few stops early, or park further away from class or work and walk the rest of the way.
Take a stand! Break up long lectures or meetings with a standing break, or try studying at an active workstation or treadmill desk
Incorporate Random Acts of Exercise into your day—courtesy of Dr. Sally Willis-Stewart and her 4th year Kinesiology students.
Carry a smaller water bottle or use a glass. You'll find yourself standing up more frequently to refill it.
Stretch throughout the day
Check out these tips from the Kinesiology Undergraduate Society!
Inclusive Recreation
UBC Recreation is committed to providing an inclusive, accessible, and respectful experience for all of its patrons, volunteers, and staff. Learn more.
---
Campus Recreation Providers
Creating an environment that supports physical activity is a collaborative process. Here are a few campus partners who help get UBC moving more!
Student Resources
UBC Staff and Faculty Resources
References
Biswas, A., Oh, P. I., Faulkner, G. E., Bajaj, R. R., Silver, M. A., Mitchell, M. S., & Alter, D. A. (2015). Sedentary time and its association with risk for disease incidence, mortality, and hospitalization in adults: a systematic review and meta-analysis. Annals of internal medicine, 162(2), 123-132.
ParticipACTION(n.d.). https://www.participaction.com
The University of British Columbia (2017). UBC Action Framework to Increase Physical Activity and Reduce Sedentary Behaviour. Retrieved from https://wellbeing.sites.olt.ubc.ca/files/2016/10/PA_Action_Framework_201....
Berkowitz, B. & Clark, P. (2014, Jan 20). The health hazards of sitting. The Washington Post. Retrieved from https://www.washingtonpost.com/apps/g/page/national/the-health-hazards-o....
The Washington Post (2011, Sept 6). A workout at work? The Washington Post. Retrieved from https://www.washingtonpost.com/graphics/health/workout-at-work/.
Public Health Agency of Canada (2018). Let's get moving: A common vision for increasing physical activity and reducing sedentary behaviour in Canada. Retrieved from https://www.canada.ca/en/public-health/services/publications/healthy-liv....