By Sarah Stuttaford
4th year International Relations student & Work Learn staff with the Office of Wellbeing Strategy

In our new Wellbeing Spotlight series, we take a deep dive into the successes, resources, and works of the UBC wellbeing community and how you can benefit from them. Since February is Move UBC month, our first story will focus on the Move U Crew beginner sports programs "New Moves with the Move U Crew." Organized by the Office of Physical Activity, who strives to break down barriers and improve access to physical activity across campus, some of the sports featured in the program included skateboarding, pickleball, wheelchair basketball, and goalball. All participants of any level were welcome, and the events were a hit!
This program helped uncover the need to provide more introductory programs on campus, particularly for niche sports that are not often offered in regular recreation spaces. Through this new program, relationships were built with some external organizations including Undertoe Skateboarding Academy, Morica Sports, BC Wheelchair Sports Association, and BC Blind Sports & Recreation Association as well.
To learn more about Move U programs and how to register, we talked with Emily Jarvis, Physical Activity Coordinator at UBC Athletics and Recreation.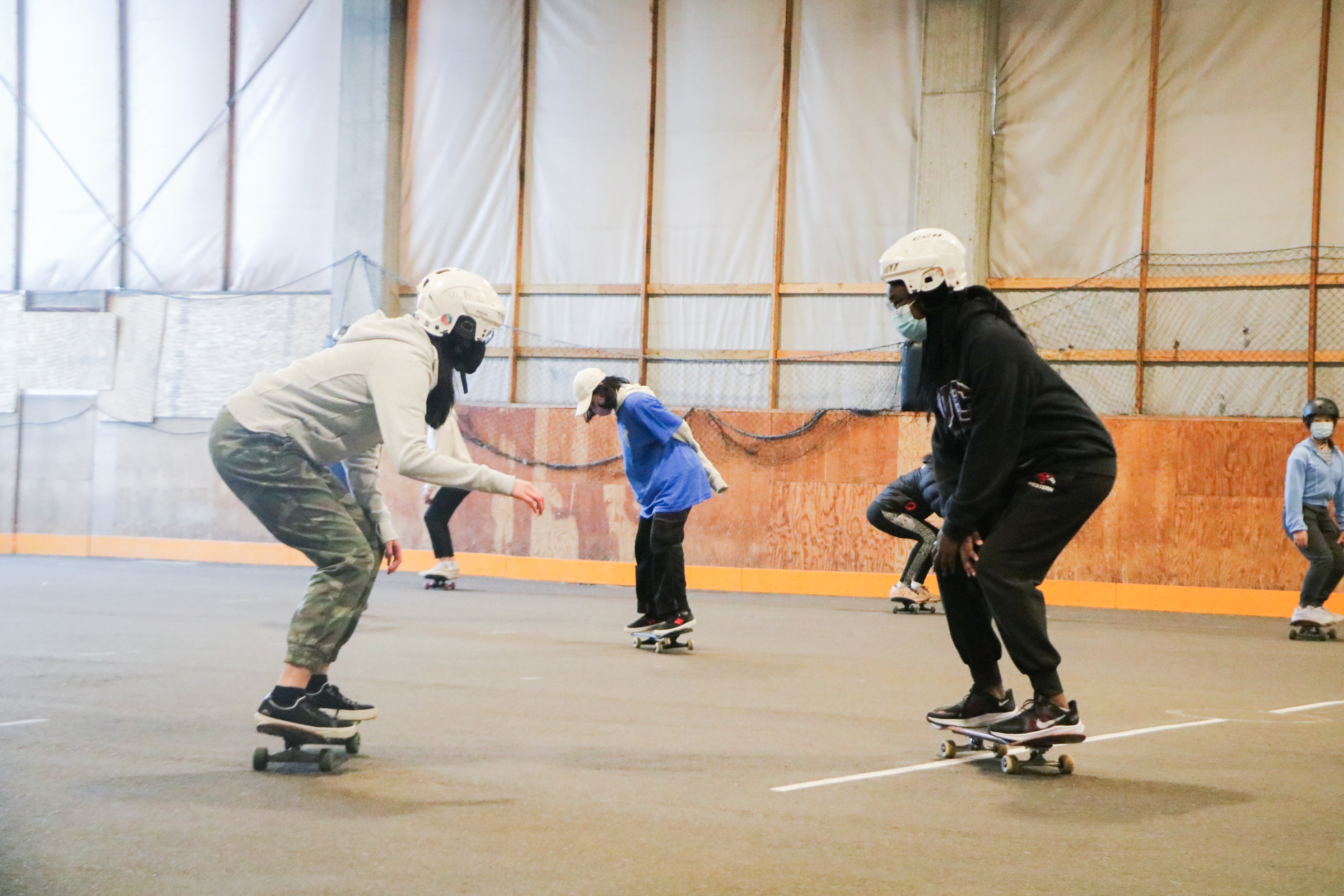 Photo credit: UBC Recreation
1. To start, what inspired you to implement more accessible, beginner fitness classes?
We recognize that there are equity-deserving communities on our campus who have historically been excluded from recreation and we strive to change this. While some UBC community members feel confident in accessing our programs, there are many people that find recreation spaces quite intimidating! By increasing our beginner programming, our aim is to break down barriers for people to participate. All of our beginner programs require no previous experience, no equipment, and are either low-cost or free! We have also increased our cultural programming to highlight physical activities from different cultures. This allows people to learn more about different cultures, connect with others and try out new activities that they may have never tried before.
2. How were these classes received by the community?
Feedback from participants has been very positive. Participants have mentioned how great these programs are for getting their foot in the door and learning about all the different opportunities at UBC Recreation. Participants have commented on how it is nice to try new activities in an environment where everyone is a beginner. We have also heard from many participants that our programming has inspired them to be more physically active! This makes us really happy! Based on the success of our beginner programming, we have been able to introduce new programs and increase the number of available opportunities.
3. Are you planning to continue these classes this year? Where can people register for them?
Absolutely! You can find links to our beginner programming here:
4. What was a surprise for you when you introduced the new classes to the UBC community?
I don't think I really recognized the impact they would have on increasing social connection. We ask for feedback on all our programs and there are always so many people that are grateful for the opportunities to meet new people. In particular, we have heard of many new friendships that have come out of our Move More, Learn More program because it is a longer program and there is lots of opportunity for people to interact. We try to incorporate moments for people to connect where we can!
Photo credit: UBC Recreation
Register for one of the many Move U beginner programs today and be sure to check out the Move UBC calendar for free events and activities all of February! And If you enjoyed this Wellbeing Wednesday story, stay tuned for more stories coming to you soon. For more details about the past year's initiatives across both campuses feel free to check out the 2021-22 Wellbeing Annual Report as well.
Do you have a story idea to highlight an initiative, program, or resource that supports health and wellbeing at UBC? Let us know here!
---
Do you have a wellbeing example or research project to share?
---