Fostering Academic Tenacity: Online Connection
---
Research indicates that there is an important link between students' learning environment and their feeling of a sense of social belonging during their post-secondary education (Braxton, Milem & Sullivan, 2000; Meeuwisse, Severiens, & Born, 2010). For online components of courses many instructors rely on Canvas, the current learning management system (LMS) at UBC. In a recent white paper, Canvas emphasized the importance of social-connectedness in online spaces and highlighted ways to leverage the LMS to support connection (Irvine & Stein, 2015).
Cooperative learning environments may positively contribute to students' sense of belonging (Braxton, Milem & Sullivan, 2000; Meeuwisse, Severiens, & Born, 2010).There are many tools and activities that promote cooperation and collaboration that could be employed in the online environment to foster connection. Peer assessment has become an integral part of active and collaborative learning environments; peer assessment allows students the opportunity to actively take part in shaping their own learning as well as help their classmates improve their learning (Cassidy, Richard & Bailey, Daniel, 2018; Van Gennip, Segers, & Tillema, 2010).
Moreover, research indicates that peer assessment as a collaborative learning intervention contributes to higher levels of psychological safety, trust, and interdependence among peers (Van Gennip, Segers, & Tillema, 2010).
Promising Practice
Steven Barnes, Fostering Academic Tenacity Through Online Connection
Steven Barnes teaches in Psychology and facilitates opportunities for his students to build community in the online courses that he teaches. Steven designed his online sections of introductory psychology courses with the intention of facilitating a sense of belonging amongst students in the courses. In these instructor-paced, online courses of approximately 130 students, activities include short pre-recorded video lectures, animations, and interviews, online office hours with the instructor and TAs, and student-led study sessions.
Further, students have the opportunity to see each other's work through an assignment that involves peer assessment, that uses the tool comPAIR. Throughout the course there are multiple opportunities for students to connect with their instructor and their peers in an online space.
The impact of a key question in mind: How does the opportunity to participate in community-building learning activities within an online course affect students' sense of belonging?
Key findings include:
About 65% of students agreed that ComPAIR helped improve their insight into what their peers were doing in the course.
About 65% of students agreed that online office hours made them feel more connected with their instructor.
Selected References and Measures
References
Braxton, J. M., Milem, J. F., & Sullivan, A. S. (2000). The influence of active learning on the college student departure process: Toward a revision of Tinto's theory. The Journal of Higher Education, 71(5), 569-590.
Cassidy, Richard & Bailey, Daniel (2018). L2 students' perceptions and practice of both giving and receiving online peer-feedback. Multimedia-Assisted Language Learning, 21(1), 11-34.
Irvine, A., & Stein, J. (2015). Increased Social Connectedness through Digital Peer Learning [White Paper]. Retrieved March 17, 2020, from https://www.instructure.com/canvas/downloads/Increased-Social-Connectedness.pdf?newhome=canvas
Meeuwisse, M., Severiens, S. E., & Born, M. P. (2010). Learning environment, interaction, sense of belonging and study success in ethnically diverse student groups. Research in Higher Education, 51(6), 528-545.
Van Gennip, N. A., Segers, M. S., & Tillema, H. H. (2010). Peer assessment as a collaborative learning activity: The role of interpersonal variables and conceptions. Learning and Instruction, 20(4), 280-290
Measures
Martin, A. J., & Marsh, H. W. (2009). Academic resilience and academic buoyancy: Multidimensional and hierarchical conceptual framing of causes, correlates and cognate constructs. Oxford Review of Education, 35(3), 353-370.
Tovar, E., & Simon, M. A. (2010). Factorial structure and invariance analysis of the sense of belonging scales. Measurement and Evaluation in Counseling and Development, 43(3), 199-217. doi:10.1177/0748175610384811
The University of British Columbia (2018). The undergraduate experience survey 2018.
Zandvliet, D. B., Stanton, A., & Dhaliwal, R. (2019). Design and validation of a tool to measure associations between the learning environment and student well-Being: The healthy environments and learning practices survey (HELPS). Innovative Higher Education, 1-15.
Go Further
Online Connection Reflection & Planning Tool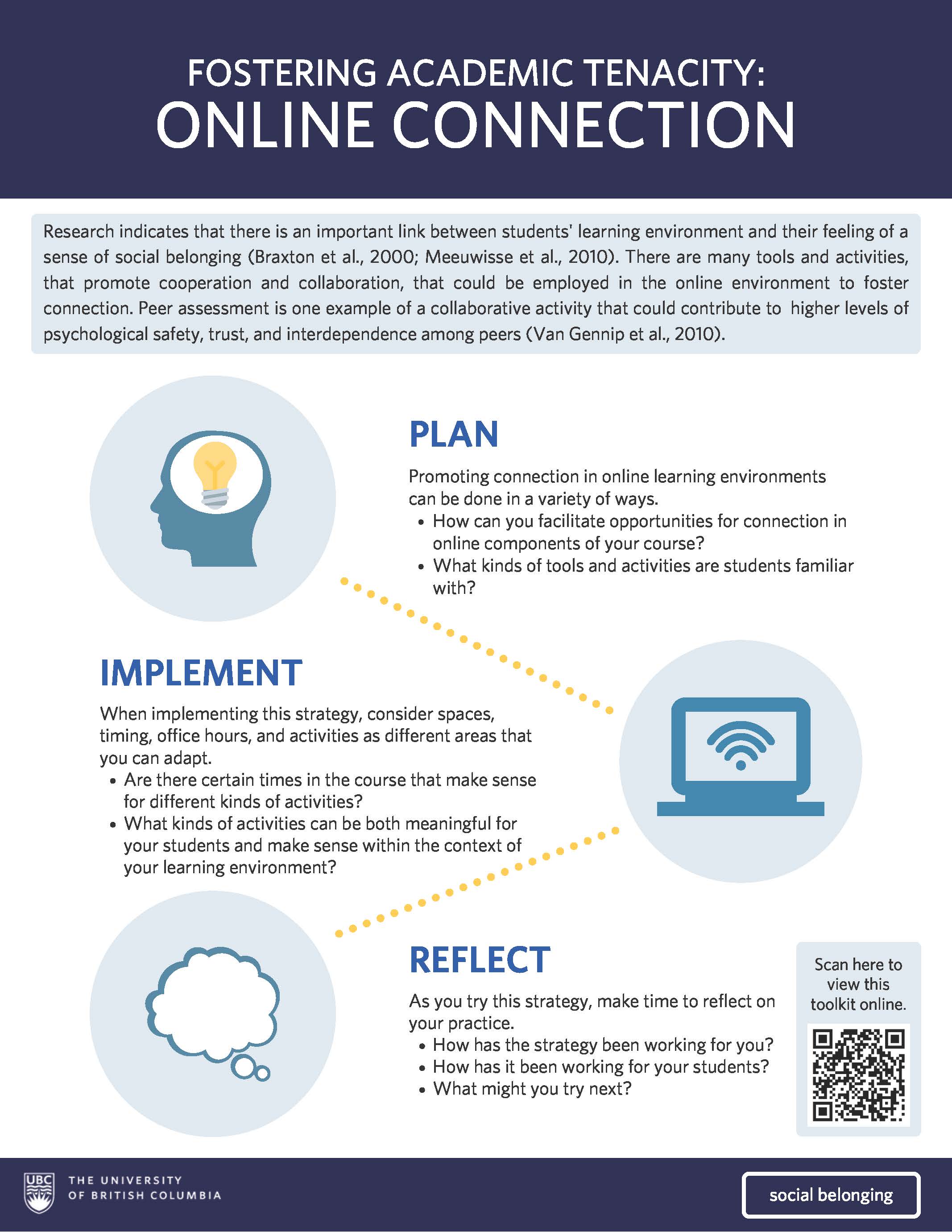 ---
Recommended Citation
Health Promotion & Education, UBC. (2020). Fostering academic tenacity: Online Connection. Retrieved from: wellbeing.ubc.ca/wble
---
We gratefully acknowledge the financial support for this project provided by UBC Vancouver students via the Teaching and Learning Enhancement Fund.