Campus Food Insecurity
---
Often defined as "inadequate or insecure access to food due to financial constraints," household food insecurity impacts a higher-than-average number of university students, including many at UBC; recent Undergraduate Experience Survey (UES) data showed 37% of students at UBC Vancouver, and 42% at UBC Okanagan report low to very low food security.
This is a complex issue that impacts student wellbeing and academic performance.
The idea that being a "starving student" is a rite of passage is pervasive and often joked about—but food insecurity, especially over years, increases the risk of poor physical and mental health. This is concerning for university students because of the negative impact on learning, academics, and work outcomes over time. Food insecure students showed lower grades, higher rates of mental health concerns, and a higher tendency to reduce their course load, therefore requiring more time to complete their studies.
To do well, students need to be well, and being food insecure puts this at risk.
Why Is Food Insecurity Prevalent on Campuses?
University students face many factors that increase their risk of food insecurity. While tuition has increased 238% since 1991, wages and financial assistance have not kept up at this pace. Dramatic increases in the cost of living, inadequate financial assistance, and low salaries, all contribute to less funds to purchase food—and students sometimes finding themselves with the tough choice between paying bills and buying food.
Post-secondary students experience high rates of unemployment, and while more and more students work during the school year to support themselves, many jobs available to them often do not pay enough to cover living expenses and tuition. And while there is a common belief that university students are usually supported by parents, this is not the case for all. Undergraduate Experience Survey data shows that 23% of food insecure students at UBC Vancouver and 31% of food insecure students at UBC Okanagan report no parental support for tuition and living costs.
The root cause of household food insecurity isn't the price of food, it's a lack of income.
Food is typically one of the first things to go when money is tight. Enhancing food security on campuses is not about cheaper food or more food banks; while these are short-term solutions that help temporarily alleviate hunger, they are not long-term fixes.
While universities alone cannot solve this problem, we do have a role to play in advocating for ways to increase food security for our community.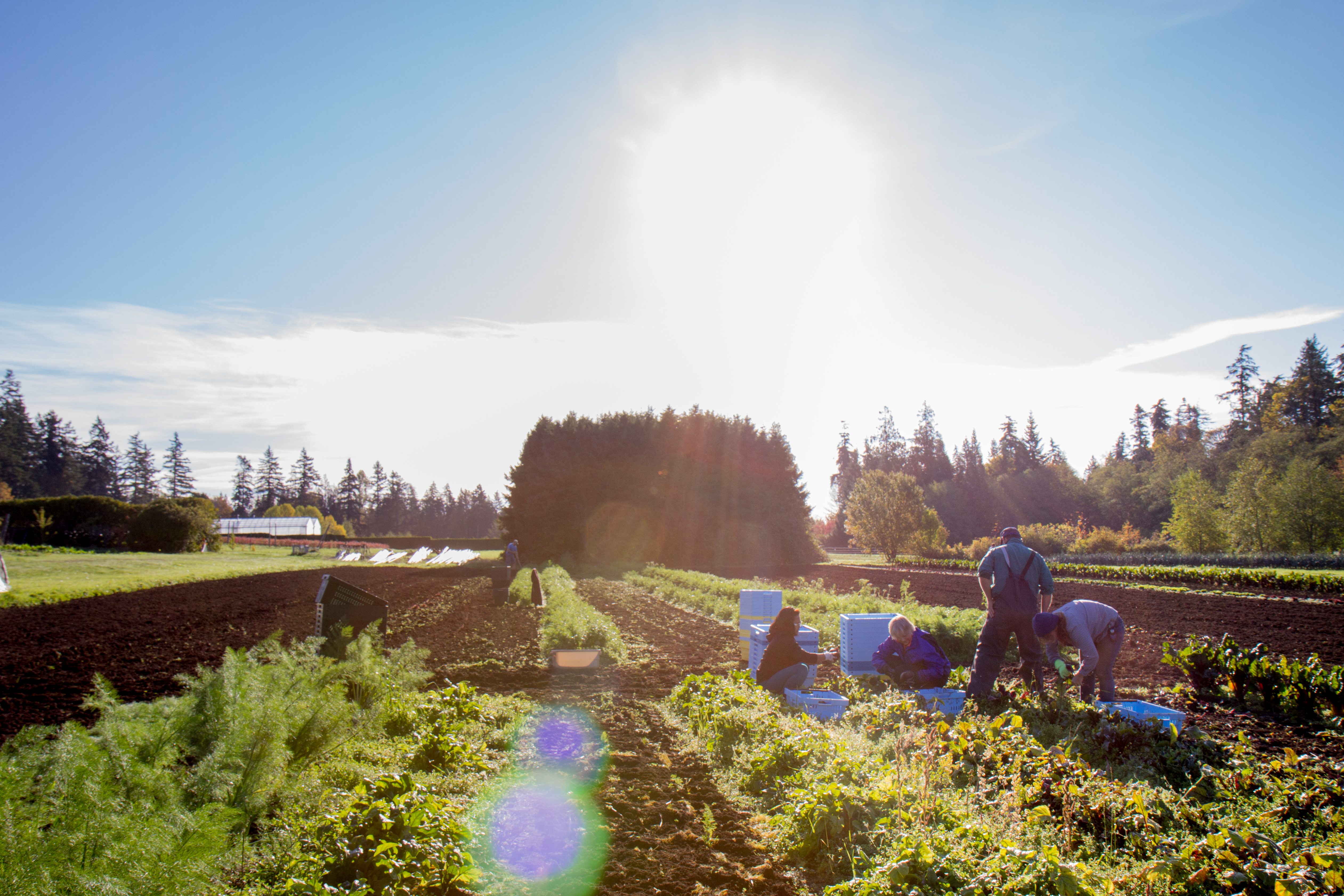 What We Know: Food Security at UBC
The Undergraduate Experience Survey (UES), administered annually to all undergrads at UBC, asks a range of questions about health and wellbeing, academic experience, engagement, personal development and more.
In 2019, the UES included a six-item food insecurity measure. Similar to other Canadian post-secondary institutions, results showed that 38.5% of UBC undergrads reported low to very low food security.
Students from at-risk demographics are especially vulnerable
Within the general population, BIPOC communities are at higher risk of food insecurity, and are more likely to live in food deserts. These statistics are rooted in systemic racism and generations of housing and income inequality, and put these communities at higher risk for a variety of poor health outcomes.
UES data collection showed similar findings. Students from at-risk demographics, including BIPOC students, those who identify as transgender/non-binary, and those with mental health diagnosis and disability, showed a higher risk of being food insecure, as did graduate students, international students, and students with children.
UBC's solutions to food insecurity must be systemic, inclusive, and centered around justice. This approach underlines the vision, mission, and goals of the Food Security Initiative.
Student-supported research has been crucial in UBC's exploration and understanding of food security.
A 2018 SEEDS study showed that international students and off-campus graduate students supporting dependents are overrepresented in food bank client demographics. Throughout the various phases of VOICE, student-supported research results indicate that food and food security have been an ongoing priority for students. And The Ubyssey sparked conversations about campus food insecurity through a number of Op Ed pieces over the years, including The Hunger Gap; a three-part series documenting the experiences of students who are food insecure.
But there is still a lot that we do not know.
Limited data is available on the prevalence of food insecurity for post-secondary faculty and staff—within these populations some individuals may be risk due to seasonal work, uncertain employment, or earning below a living wage. The Canadian Campus Wellbeing Survey, recently piloted at UBC, will also help provide more insight into the experiences of students in "at risk" demographics, including graduate students, BIPOC students, international students, and LGBTQIA+ students. The Food Security Initiative is working to better understand these populations and how to support them.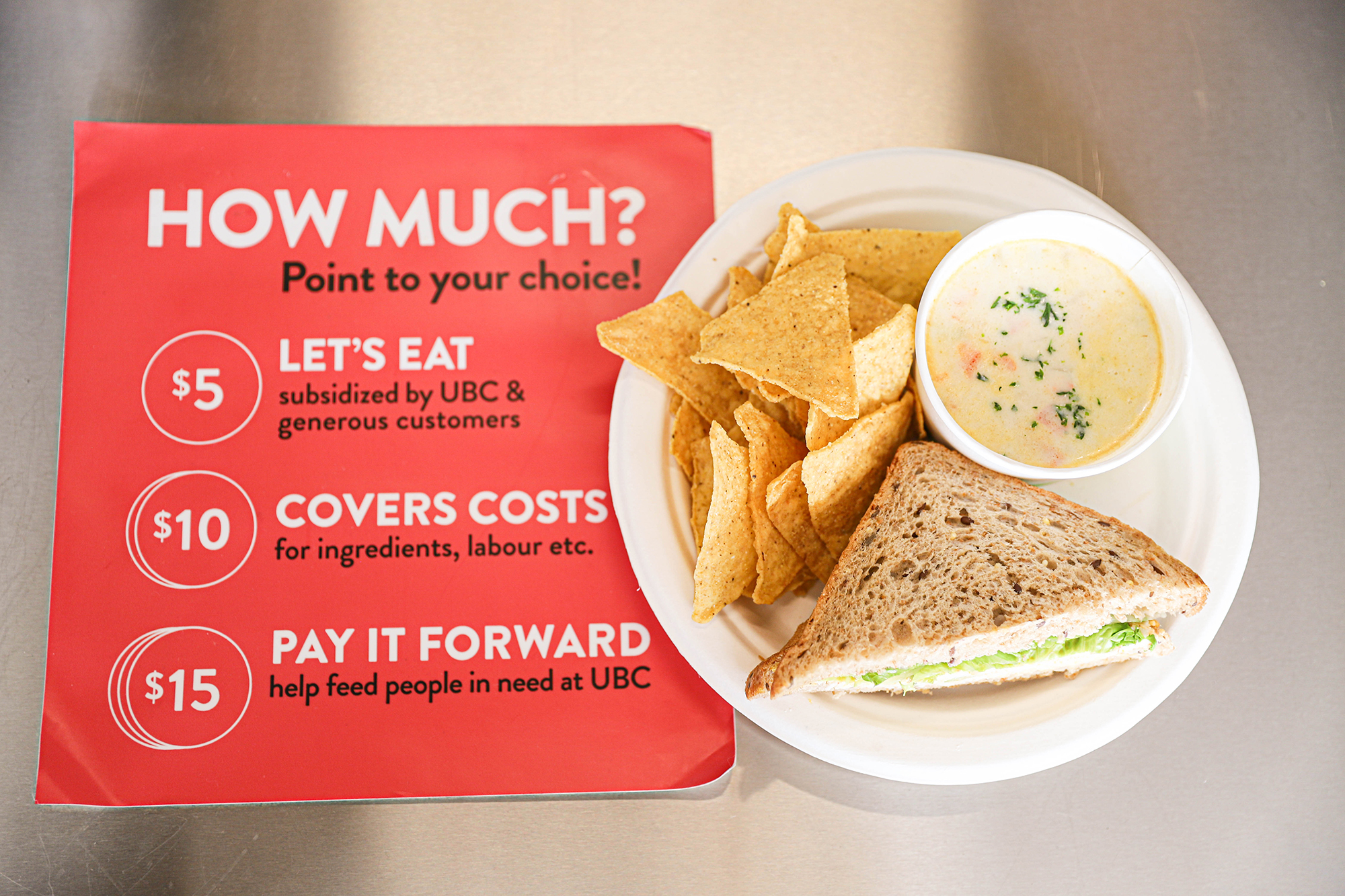 The True Cost of Food
The cost of food at the grocery store does not typically reflect the true social, ecological and economic costs of agriculture and food chains.
Purchasing high-quality, sustainable, and ethically-sourced food is part of UBC's commitment to our community, and to the planet, as outlined in UBC Food Services Food Revolution Manifesto.
UBC is a large player in purchasing food in B.C., and we have a responsibility to align our purchases with these commitments and values.
UBC is a Fair Trade and Ocean Wise institution, and on the Vancouver campus, over 60% of ingredients are purchased locally—including from the UBC Farm. The AMS has also committed to serving fair trade coffee and chocolate at all beverage outlets, and continually strives to incorporate more fair trade produce.
The Okanagan campus emphasizes Fair Trade procurement, is 100% Ocean Wise, and purchases 34% of ingredients locally from BC, with approximately 15% of ingredients purchased hyper-locally from within the Okanagan. Many of these procurement decisions have been directly influenced by community demand over the years.
But values-driven procurement comes at a cost.
Food costs at UBC reflect the ethical standards, quality, and a competitive living wage with benefits. UBC Vancouver Food Services employs over 400 people, and UBC Okanagan Food Services employees 140 people, including many students, who receive above minimum wage. UBC Food Services also provides profits back to the university for many services and programs that benefit the community.
---
Food Security in the News
Food security is top of mind for many students, and a number of articles in recent years have documented their experiences.
The Hunger Gap: In November 2018, The Ubyssey published a three-part series on the experiences of food insecure students at UBC Vancouver.
COVID-19's impact on food insecurity on campus: In April 2020, The Ubyssey published an article looking at the potential impact of COVID-19 on food security.
Food insecurity among postsecondary students in developed countries: A narrative review
---
Food Systems at UBC
The Food Security Initiative is one part of UBC's broader food system; students, faculty, staff, and community partners are collaborating to advance UBC's food system sustainability.
---